THE WAY WE WERE
SELECTED FLIGHTS FROM MY LOGBOOKS OF THE 1970s
Says the Ed. to me by email (and I quote): I plan on being in Bellarena on Friday. Do you fancy meeting for a meal and a chat Friday evening?
My reply: How about the Radisson for a bar meal about 7?
Says he to me: Radisson it is. See you then.
A short electronic conversation between gliding friends with the prospect of a pleasant evening's craic and a good meal – or so I thought! We met as arranged and sat down at a window table with a view of the golf course resplendant in some much sought after evening sunshine. Drinks were ordered and as we settled I heard "Oh, before I forget (old age flashed through my mind) would you do an article for the website?" I had been well and truly suckered! A short discussion ensued the outcome of which is the following short visit down my memory lane of the 1970s.
Newtownards: Wednesday 28th June 1972
In the early seventies the Ulster Gliding Club owned an exceptionally well maintained and very beautiful Slingsby Skylark 2, competition number 347, which was a delight to fly despite its reputation as a lead sled. The prototype Skylark 2 first flew in November 1953. It had a laminar flow cantilever three piece wing with airbrakes but no flaps, fixed wheel undercarriage, and was of conventional wooden construction. It had a wingspan of 14.6 metres and a claimed maximum L/D of 30:1 at 50 knots which, in my opinion was far too optimistic. It was probably of the order 26:1. On one of my flights in 347 I chose a speed of 50 knots to maximise distance on final glide in relatively calm conditions and it definitely did not deliver 30:1. For the record Philip Wills flew a Skylark 2 in the 1958 World Gliding Championships held in Leszno, Poland, and on one occasion his final glide on a free distance flight (i.e. distance from the point of release to the place of landing) was flown at precisely 39 knots (see his book entitled 'Where No Birds Fly', Newnes, 1961).
In England it was common for a Silver distance flight to terminate at an airfield which was more than 50 kilometres from the base field. The objective was to avoid a road retrieve by taking an aerotow back home. A similar objective could be obtained by towing more than 50 kilometres from base, releasing, and soaring back home and this was exactly what I did on the day in question.

A very brief summary of the flight is recorded in my logbook as can be seen above. Not only did I complete the distance in a little over an hour but there was the bonus of a Silver height as a result of a very memorable climb inside a cumulonimbus cloud – one of the most frightening experiences of my life. Inside the cloud it was dark and foreboding, the noise of hailstones striking the glider was deafening, and the turbulence was severe. My exit from the side of the cloud was witnessed by a club member who also reported seeing lightning closeby. Upon landing it was discovered that both the upper and lower surfaces of the wings had been brightly polished by the hailstones – proof positive that hailstones oscillate rapidly up and down within large cumulonimbus clouds.
The 'getting away' referred to in the logbook resulted in a climb straight into cloud and when ejected from its side Strangford Lough would have been clearly visible about 20 kilometres distant. Since Newtownards airfield lay at the head of the lough navigation was not a problem. Another climb of only a few hundred feet was all that was required to enable me to final glide.
Newtownards: Saturday 27th April 1974
On this occasion, as can be seen from the logbook extract below a 300 kilometre triangle was declared – Newtownards, Magilligan (Binevenagh), Brookeborough, Newtownards – that unfortunately terminated with an outlanding at St Angelo airfield near Enniskillen. The aircraft flown was the UGC's Skylark 2, number 347, and this was my first attempt at Gold C Distance.

The decision to land at St Angelo, which was close to the second turnpoint, was prompted by the facts that it was late in the day, the homeward leg was into wind as was indicated by smoke from a fire near St Angelo, and to continue the flight would have resulted in a field landing in the wilds of Co Fermanagh. This was my first soaring flight of over five hours duration in thermals (I had already completed a five hour flight on the ridge at Newtownards on Saturday 5th February 1972 on which occasion I had landed in the dark!) and what a worthwhile flight it turned out to be. As can be seen from the extract the soaring was magnificent but I had yet to learn that such conditions were a distinct rarity in our Irish summers. During the remainder of 1974 not one decent soaring flight in thermals is recorded in my logbook as having taken place in Ireland.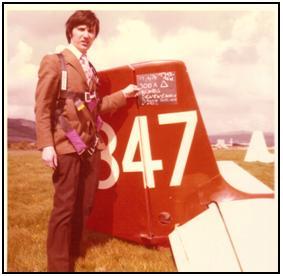 The Declaration: Saturday 27th April 1974
The forecast for the day had looked to be very promising and it had been my intention to fly the Club K6e, a much better aircraft than the Skylark 2. However, an instructor arrived at the Club before me, elected to fly the K6e, and declared a goal flight to Farranfore. Can you imagine my surprise to discover upon landing at St Angelo that the K6e was parked at the side of the runway? It had flown directly from Newtownards to St Angelo. Oh for the benefits of a privately owned aircraft!
Kilkenny: Friday 2nd July 1975
During late June and early July of 1975 glider pilots from all over Ireland gathered in Kilkenny to participate in what turned out to be an extended period of local and cross-country soaring. For once the Irish weather co-operated, tasks were set (and often completed!), and the craic was mighty.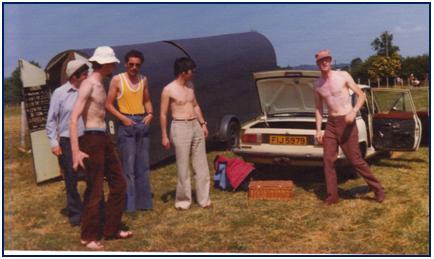 Kilkenny 1975: The Way We Were.
I flew a total of nineteen flights from Kilkenny of which two were of some note. The first of these was on Thursday 1st July – a 148 km triangle with Jeremy Bryson in a Blanik: Kilkenny, Cahir, Carrick-on-Suir, Kilkenny. On the 2nd July, I made my second attempt at a 300 kilometre triangle in 347 which by this time was privately owned by a small syndicate which included me. The Skylark's original trailer can be seen in the photograph above.

The extract above identifies the task and the flight itself ranks among my best flights ever. It delivered several big climbs and I can remember reaching cloudbase at 7,300 feet on one occasion – a height that to this day I have never exceeded in Irish thermals. The detours described added many kilometers to the task and, in all probability, my selection of cruising speeds was not optimal. In particular, my final downwind glide from more than 4,000 feet was accomplished at approximately 50 knots instead of the precise 39 knots that Philip Wills would have selected.
The detours mentioned indicate poor navigational skills which persisted with me until the arrival of GPS. The lack of good navigational skills became apparent again two years later on the 5th August when flying the SHK from Gowran Grange. On this occasion I apparently got lost (see below)!

During the seventies I flew from a large number of gliding sites in Ireland. In particular, the expeditions to Farranfore, Edenderry, Gowran Grange, and Kilkenny were exceptionally memorable for a variety of reasons including the quality of the flying and the hospitality. The craic at Kilkenny and Farranfore was mighty, but there is no doubt in my mind that the best Irish expedition during the seventies took place at Kilkenny in the summer of 1975.
Gold C Distance: Wednesday 1st June 1977
In the autumn of 1976 the Skylark 2 was sold in Scotland and a Schempp-Hirth SHK 1 was bought in Germany. Robin Snow and I collected the glider and brought it to Portmoak for transfer to the UK register. The prototype first flew in 1965. It had a V tail, a 17 metre laminar flow wing with Schempp-Hirth air brakes and no flaps, a retractible main wheel, and a tail braking parachute. Its performance was among the best of the last generation of wooden sailplanes, its controls had, in general, a light and pleasant feel, and the best L/D was close to 36:1. At approximately 11 a.m. on the 1st June 1977 I was launched in the SHK from Newtownards on my third attempt to claim a Gold C Distance. The flight was declared as a dog-leg with one turnpoint, the Rock of Cashel.
The intention was to fly as far as the Rock of Cashel which was approximately 250 kilometres from the point of release, photograph the Rock, and then fly as far as possible back towards home. A Gold C Distance could be claimed provided that the total distance covered (i.e. point of release to Cashel plus the distance from Cashel to the landing position) was greater than 300 kilometres. The secondary purpose of the declaration was to reduce the length of the retieve since an outlanding was inevitable. The logbook extract given below summarizes the key points of the flight.
Initially the soaring was difficult since I had never flown in blue conditions before. However, conditions changed dramatically at the north-west corner of Camlough Mountain a few miles to the west of Newry. From this point onwards cumulus formed, climb rates improved significantly and it became possible to climb much higher as can be seen from the barograph trace given below. The cumulus clouds were regularily spaced and shallow and continued to be formed until well after six o'clock. For more than four hours I enjoyed the magnificent soaring on tap – what else could I do with cloudbase in the region of 5,700 feet and all of Ireland below me? Mullingar, Tullamore, and Cashel all apeared as expected and I still have faint recollections of seeing Kilbeggan Racecourse as I soared between Mullingar and Tullamore!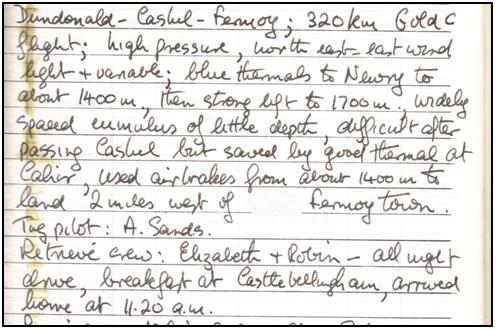 At Cashel I pondered the possibility that the turnpoint photograph, when developed, might not prove that I had rounded it successfully. If this was to be the case and I had retraced my steps homewards only a free distance flight of less than 250 kilometres could be claimed. Alternatively, by continueing downwind a further 50 kilometres or so, a free distance flight of greater than 300 kilometres would be achieved. Consequently, I chose the latter option.Beyond Cashel conditions deteriorated for a short period before becoming good once more and it was with some regret that I was forced to land several miles to the west of Fermoy as a result of airspace restrictions. A very large field was selected and the SHK came to rest at about 6.30 p.m. The barograph was still ticking and I knew immediately that Gold C Distance was in the bag. The straight line distance flown was approximately 320 kilometres – the longest free distance flight ever recorded in Ireland.

The trace seems to confirm that I had adopted a strategy of 'get high and stay high' which is not the best possible way to maximise a good soaring day. Modern techniques for maximising distance on thermic days are presented in Helmut Reichmann's masterpiece 'Cross-Country Soaring', the English version of which was first published in the early seventies. A more recent text which has proved to be very popular is Bernard Eckey's book 'Advanced Soaring Made Easy' (ISBN 978-0-9807349-0-4).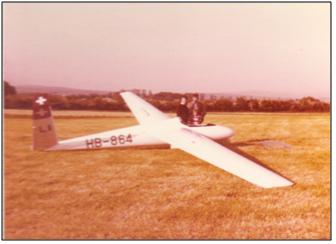 SHK1: Field Landing near Fermoy
After landing I was faced with the task of organising a retrieve which would involve an expensive round trip of over 400 miles and would not be completed until the following morning at the earliest. The first job was to contact the farmer whose residence was some distance away. Can you imagine his reaction when I tried to explain that I had just landed a glider in one of his fields and that I had come from the North near Belfast? He initially plied me with whiskey (to keep me quiet until he verified that a glider was really in one of his fields or until the men in white coats arrived?) after which he could not have been more helpful – phone calls were made, help was gathered up to derig the glider ready for loading into the trailer, and I was driven the few miles into Fermoy to await the arrival of the retrieve crew consisting of Robin Snow and my wife Elizabeth.
The crew arrived at about 2 a.m. on the following morning at which time I was at the side of the Dublin Road on the outskirts of Fermoy. Despite some wild leaping about on an otherwise empty road in an effort to attract the driver's attention the car and trailer simply swerved round me and disappeared into the town! Apparently the driver thought I was a drunk. About 10 minutes later they reappeared having been re-directed by the local Gardai with whom I had become very friendly during the course of the evening. (This particular incident has been written up by Bob Rodwell in an article in Sailplane and Gliding).
We drove to the farm, put the glider in the trailer and came back to Fermoy by which time dawn was breaking. We parked the car and had a snack which Elizabeth had prepared before leaving home. Then, just before setting off, Robin reached into the back of the car and produced a bottle of Glenmorangie whereupon we drank a toast to my Gold C Distance – the time was 4 a.m. Castle Bellingham Hotel was the venue for breakfast and upon reaching home the crew went to work and I went to bed.
In one twenty-five hour period a most exhilarating and very fulfilling downwind dash had been accomplished that was followed by an unforgettable overnight retrieve. Without doubt memories are made of this.
So over to you Ed. The writing of the article above has rekindled many forgotten memories for which many thanks.
J Weston
June 2013